Aims and Scope
Steven J. Lavine, Ghulam Murtaza, Zia Ur Rahman, Danielle Kelvas, Timir K Paul
---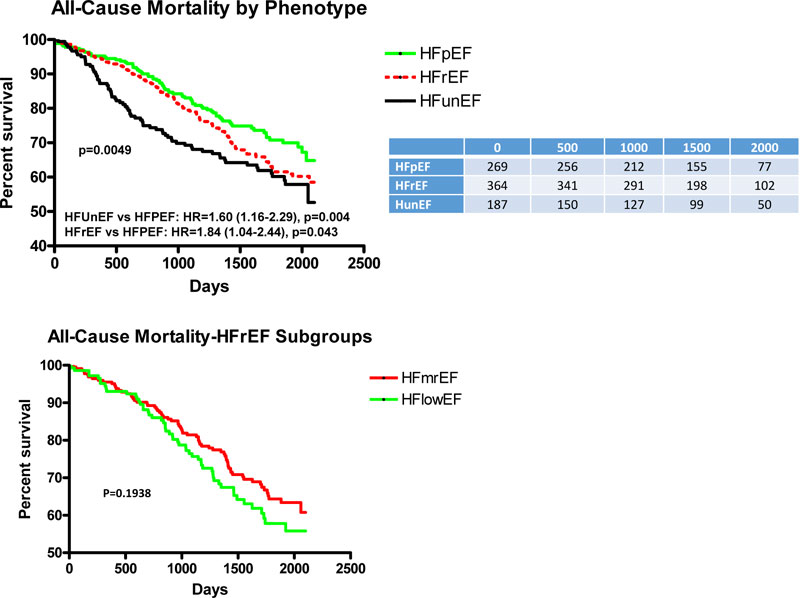 Background:
Heart Failure (HF) is a frequent cause of mortality and recurrent hospitalization. Although HF databases are assembled based on left ventricular (LV) ejection fraction, patients without LV ejection fraction determination are not further analyzed.
Objective:
The purpose of this study is to characterize patient attributes and outcomes in this group-HF with unknown Ejection Fraction (HFunEF).
Methods:
We queried the electronic medical record from a community-based university practice for patients with a HF diagnosis. We included patients with >60 days follow-up and had interpretable Doppler-echocardiograms. We recorded demographic, Doppler-echocardiographic, and outcome variables (up to 2083 days).
Results:
There were 820 patients: 269 with HF with preserved Ejection Fraction (HFpEF), 364 with HF with reduced Ejection Fraction (HFrEF), of which 231 had a LV ejection fraction=40-49% and 133 had a LV ejection fraction<40%, and 187 with HFunEF. As compared to patients with HFunEF, HFpEF patients were younger, had a higher coronary disease and hyperlipidemia prevalence. Patients with HFrEF had more prevalent coronary disease, myocardial infarction, and hyperlipidemia. Patients with HFunEF were more likely to be seen by non-cardiology providers. All-cause mortality (ACM) was greater in HFunEF patients than patients with HFpEF (Hazard Ratio (HR)=1.60 (1.16-2.29), p=0.004). Furthermore, HF readmission rates were lower in HFunEF as compared to HFpEF (HR=0.33 (0.27-0.54), p<0.0001) and HFrEF (HR=0.30 (0.028-0.50), p<0.0001).
Conclusion:
Patients with HFunEF have greater ACM and lower HF re-admission than other HF phenotypes. Adherence to core measures, including LV ejection fraction assessment, may improve outcomes in this cohort of patients.
---
October 26, 2020
Michael Spartalis, Eleni Tzatzaki, Eleftherios Spartalis, Christos Damaskos, Antonios Athanasiou, Efthimios Livanis, Vassilis Voudris
---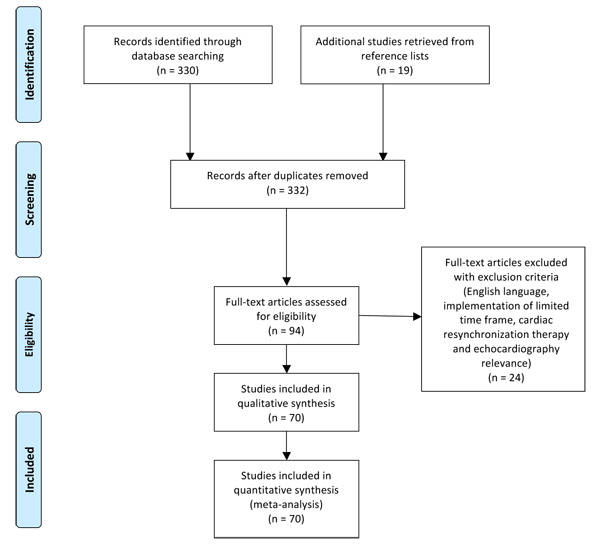 Background:
Cardiac resynchronization therapy (CRT) has become a mainstay in the management of heart failure. Up to one-third of patients who received resynchronization devices do not experience the full benefits of CRT. The clinical factors influencing the likelihood to respond to the therapy are wide QRS complex, left bundle branch block, female gender, non-ischaemic cardiomyopathy (highest responders), male gender, ischaemic cardiomyopathy (moderate responders) and narrow QRS complex, non-left bundle branch block (lowest, non-responders).
Objective:
This review provides a conceptual description of the role of echocardiography in the optimization of CRT.
Method:
A literature survey was performed using PubMed database search to gather information regarding CRT and echocardiography.
Results:
A total of 70 studies met selection criteria for inclusion in the review. Echocardiography helps in the initial selection of the patients with dyssynchrony, which will benefit the most from optimal biventricular pacing and provides a guide to left ventricular (LV) lead placement during implantation. Different echocardiographic parameters have shown promise and can offer the possibility of patient selection, response prediction, lead placement optimization strategies and optimization of device configurations.
Conclusion:
LV ejection fraction along with specific electrocardiographic criteria remains the cornerstone of CRT patient selection. Echocardiography is a non-invasive, cost-effective, highly reproducible method with certain limitations and accuracy that is affected by measurement errors. Echocardiography can assist with the identification of the appropriate electromechanical substrate of CRT response and LV lead placement. The targeted approach can improve the haemodynamic response, as also the patient-specific parameters estimation.
---
December 19, 2017