Aims and Scope
Cristina Macía-Rodríguez, Emilio Páez-Guillán, Vanesa Alende-Castro, Alba García-Villafranca, Lara Maria Mateo-Mosquera, Lucía Martínez-Braña, María de los Ángeles Valcárcel García, Francisco Luis Lado Lado
---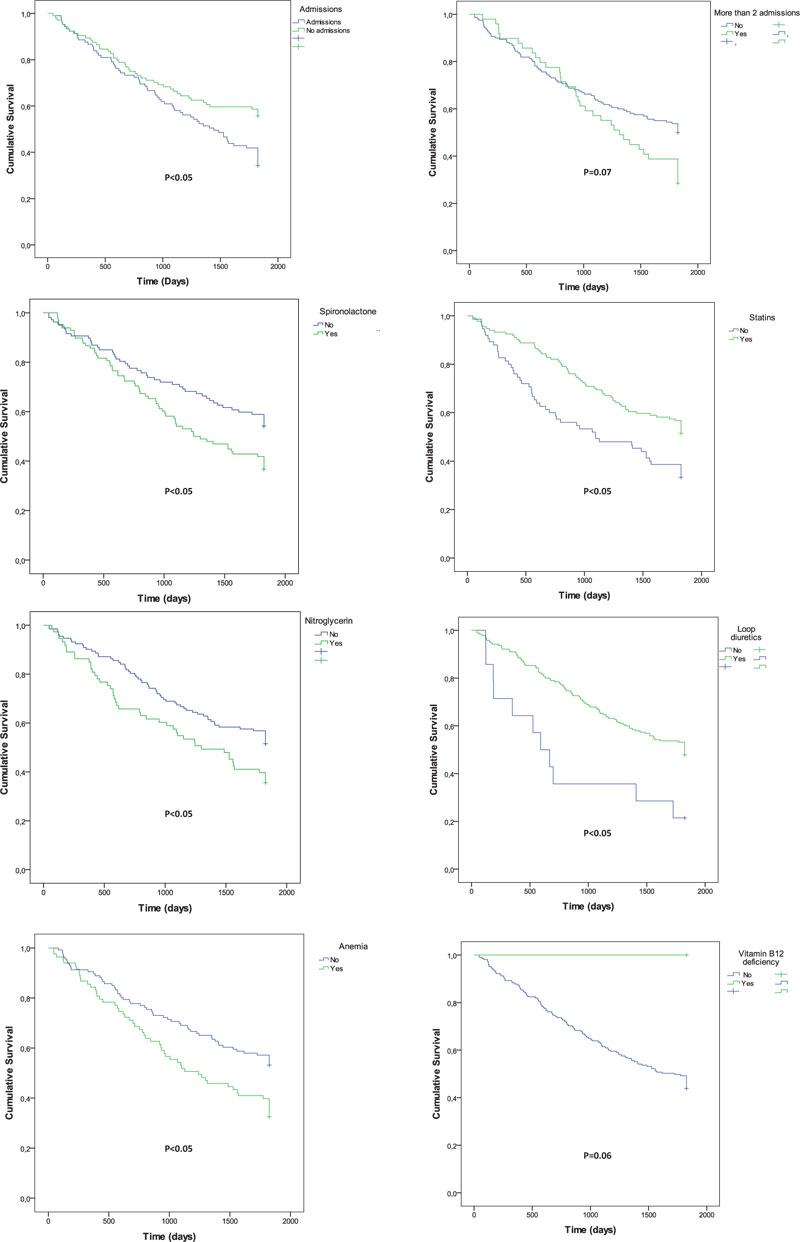 Objective:
The aim of this study was to describe the clinical characteristics of patients that have had a heart failure with preserved ejection fraction (HF-pEF) and to identify the factors associated with 5-year mortality and readmission.
Methods:
A prospective cohort study was conducted of patients followed by the Heart Failure Unit of the Internal Medicine Department. Clinical characteristics and outcomes were collected. Univariate and multivariate analyses were performed in order to identify factors associated with 5-year mortality and readmission.
Results:
A total of 209 patients with HF-pEF were followed, 59.3% of these were women, with a mean age 79 years. The main etiology was hypertensive heart disease and a high level of comorbidity (chronic renal failure, hypertension and atrial fibrillation) was observed. The 5-year mortality was 55.5%; the related variables were anemia (hazard ratio [HR]=1.7; 95% confidence interval [CI]: 1.2-2.5), in patients being treated with statins (HR=0.7; 95%CI 0.5-0.9) and spironolactone (HR= 1.6; 95% CI: 1.1-2.3); 24.5% of patients had >2 admission in 5 years, with the main related factors being atrial fibrillation (HR=2.7; 95%CI: 1.4-5.5), anemia (HR=1.9; 95%CI:1.0-3.3) and were being treated with spironolactone (HR=2.1; 95%CI:1.2-3.7).
Conclusion:
Patients with HF-pEF are old and present a high level of comorbidity. Furthermore, they have a high 5-year mortality and readmission rate. The only factor associated with lower mortality was the treatment with statins. The use of spironolactone was associated with a higher mortality risk.
---
July 31, 2020
Michael Spartalis, Eleni Tzatzaki, Eleftherios Spartalis, Christos Damaskos, Antonios Athanasiou, Efthimios Livanis, Vassilis Voudris
---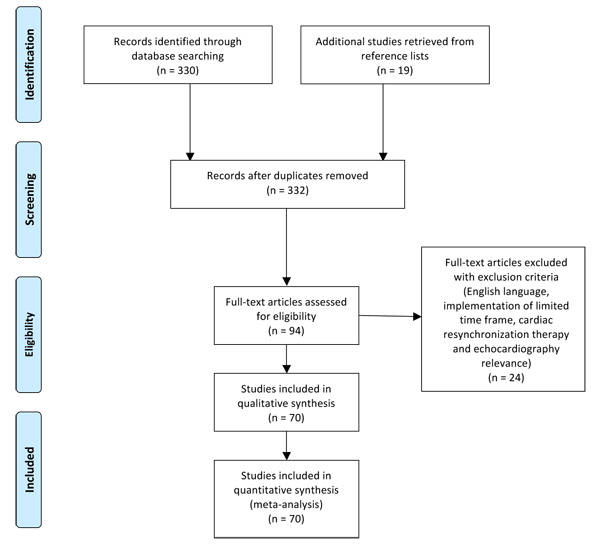 Background:
Cardiac resynchronization therapy (CRT) has become a mainstay in the management of heart failure. Up to one-third of patients who received resynchronization devices do not experience the full benefits of CRT. The clinical factors influencing the likelihood to respond to the therapy are wide QRS complex, left bundle branch block, female gender, non-ischaemic cardiomyopathy (highest responders), male gender, ischaemic cardiomyopathy (moderate responders) and narrow QRS complex, non-left bundle branch block (lowest, non-responders).
Objective:
This review provides a conceptual description of the role of echocardiography in the optimization of CRT.
Method:
A literature survey was performed using PubMed database search to gather information regarding CRT and echocardiography.
Results:
A total of 70 studies met selection criteria for inclusion in the review. Echocardiography helps in the initial selection of the patients with dyssynchrony, which will benefit the most from optimal biventricular pacing and provides a guide to left ventricular (LV) lead placement during implantation. Different echocardiographic parameters have shown promise and can offer the possibility of patient selection, response prediction, lead placement optimization strategies and optimization of device configurations.
Conclusion:
LV ejection fraction along with specific electrocardiographic criteria remains the cornerstone of CRT patient selection. Echocardiography is a non-invasive, cost-effective, highly reproducible method with certain limitations and accuracy that is affected by measurement errors. Echocardiography can assist with the identification of the appropriate electromechanical substrate of CRT response and LV lead placement. The targeted approach can improve the haemodynamic response, as also the patient-specific parameters estimation.
---
December 19, 2017